22/9/2023
Largest Younergy PV plant in Switzerland
Younergy commissions 892 kWp in Hochdorf's Sulgen Plant
HOCHDORF plant
The HOCHDORF facility in Sulgen stands as the paramount site for the publicly-traded HOCHDORF Swiss Nutrition Group. Established in 1895, HOCHDORF has etched its reputation as Switzerland's prime hub for milk processing, with a dedicated specialisation in powder drying and mixing technology for both milk-based and alternative proteins. Their products, including infant nutrition, are shipped globally.
Recognising the energy-intense nature of milk processing and in response to the rising costs of electrical energy, coupled with a commitment to sustainability, HOCHDORF opted to transform their facility's rooftops into energy production sites. Of the various rooftops at the Sulgen site, three, spanning 7,000 m2, proved ideal for photovoltaic (PV) production. HOCHDORF, keeping a sharp focus on its core business, pursued Power Purchase Agreements (PPAs) for this initiative. Following a rigorous bidding process in late 2022, Youdera (previously known as Younergy Group) was chosen in February 2023 to fund the 892 kWp PV endeavour. The planning phase spanned approximately three months, with an additional three months for installation, resulting in the successful grid connection on 18th August 2023.
In their pursuit of operational flexibility, HOCHDORF entered into a decade-long PPA. Despite the region's average solar radiation, the attractive PPA rate
Inauguration Insight
12th September marked the official inauguration of the HOCHDORF 890 kWp plant, attended by CEO Ralph Siegl and COO Géza Somogyi. Capitalising on the pleasant early autumn weather, the plant generated its initial 100 MWh by early September.
 Though faced with challenges, including supply constraints and inclement weather, the project saw a seamless execution, a testament to the collaborative efforts of Hochdorf's local project manager Ueli Siller, EPC firm CKW Conex AG, and Younergy Solar (Suisse) AG, who served as the owner's engineer.
The funding for the PV facility was provisioned by the Joint Venture GETEC Younergy. Notable attendees included Urs Zimmerli, CEO of GETEC Switzerland, and Rainer Isenrich, board member of Youdera.
Due to its proprietary drying technology, HOCHDORF's demand encompasses both electricity and thermal energy. Presently, they can source approximately 5% of their electrical needs from local PV energy, resulting in considerable savings. Notably, after the PPA's ten-year tenure, the plant will transition to HOCHDORF, continuing its production for another 15-20 years at minimal costs. The inauguration also presented an opportunity for Géza Somogyi and Urs Zimmerli to discuss potential thermal and process energy solutions.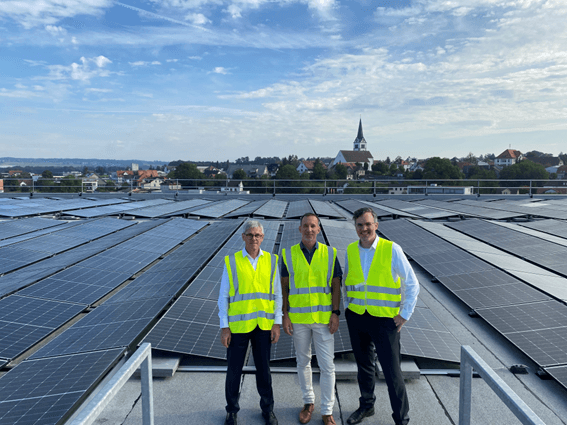 Attached Image: Pictured from left to right are Rainer Isenrich, Board President of Younergy Solar SA; Géza Somogyi, COO of HOCHDORF Swiss Nutrition AG; and Urs Zimmerli, CEO of GETEC Switzerland AG.